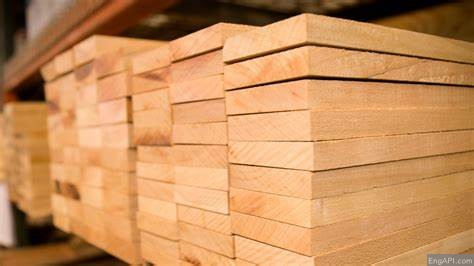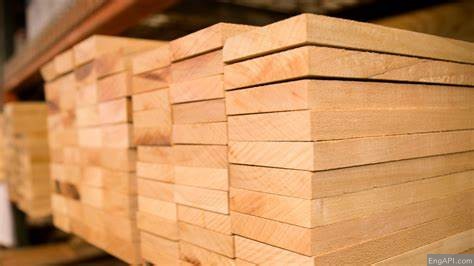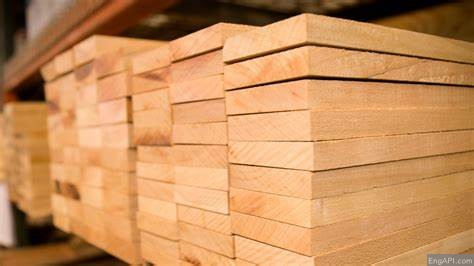 lumber
音标:
英音/ ˈlʌmbə(r) / 美音/ ˈlʌmbər /
听听基本释意:
外刊例句:
A lot of ancillary businesses — flower shops, lumber yards, dry cleaners, hotels — would also be hurt.
许多辅助企业——花店、木材场、干洗店、酒店——也会受到伤害。
—New York Times
With that lumber and the help of other skilled Black craftsmen, King built an elegant two-story house with wraparound porches on both levels.
在这些木材和其他熟练黑人工匠的帮助下,金建造了一座优雅的两层房屋,两层都有环绕式门廊。
—Washington Post
That will include claims from American industry that Canadians' softwood lumber is unfairly subsidized, a complaint that, in some forms, reaches back to the 19th century.
其中包括美国工业界声称加拿大的软木受到不公平补贴,这种抱怨在某种程度上可以追溯到 19 世纪。
—New York Times
基本释意:
noun
the wood of trees cut and prepared for use as building material
缓慢地移动,笨拙地行走;迫使担负(工作或责任);<美>伐木;逢场作戏地结识;乱堆
同义词:
timber,log,pound,baseball bat
短释义:
Lots of other words and phrases are associated with our friend lumber. Particularly large or tall people are almost inevitably said to lumber, as the common phrase "lumbering giant," attests. You never hear of a tip-toeing giant, but some of them must. Lumberjack, meaning someone who cuts down trees, is another. Often lumber, in the sense of planks of wood, is interchangeable with the word timber.
你的动作是否笨拙、沉重、缓慢,没有一丝优雅?那么听起来你可能会笨拙。很遗憾听到这个消息。
长释义:
Lots of other words and phrases are associated with our friend lumber. Particularly large or tall people are almost inevitably said to lumber, as the common phrase "lumbering giant," attests. You never hear of a tip-toeing giant, but some of them must. Lumberjack, meaning someone who cuts down trees, is another. Often lumber, in the sense of planks of wood, is interchangeable with the word timber.
许多其他单词和短语都与我们的朋友木材有关。特别大或特别高的人几乎不可避免地被称为笨重的人,正如常用短语"笨重的巨人"所证明的那样。你从来没有听说过踮起脚尖的巨人,但有些人却一定听说过。伐木工人是另一个例子,意思是砍伐树木的人。通常,在木板的意义上,木材可以与"木材"一词互换。
文学例句:
As it lumbered out of the corral toward the river, they pelted it with rocks and sticks, and Rocky yelled at it.
当它笨重地走出畜栏走向河边时,他们向它扔石头和棍棒,洛基对它大喊大叫。
—Ceremony: by Leslie Marmon Silko
They lumbered across the road, blocking my way.
他们缓慢地穿过马路,挡住了我的去路。
—Crispin: The Cross of Lead by Avi
"That would be lovely, Mrs. Murphy," Mr. Sorenson says, lumbering after her through the double doors.
"那就太好了,墨菲夫人,"索伦森先生一边说,一边缓慢地跟在她身后穿过双扇门。
—Orphan Train by Christina Baker Kline
词源:
lumber (n.)"timber sawn into rough planks for use," 1660s, American English (Massachusetts), earlier "disused bit of furniture; heavy, useless objects" (1550s), of uncertain origin. It is said to be probably from lumber (v.1) on the notion of "awkward to move," and perhaps to have been influenced by or associated with Lombard (q.v.), the Italian immigrant class famous as pawnbrokers (and money-lenders) in old England. Lumbar and Lumbard were old alternative forms of Lombard in English.
The evolution of sense then would be because a lumber-house ("pawn shop; place where thieves stash stolen property") naturally accumulates odds and ends of furniture. The 19th century guess was that it comes directly from lumber-house or lumber-room in the pawn shop sense, but these are not attested before lumber (n.). Lumber camp is from 1839; lumber-mill is from 1830; lumber-yard is from 1777.
Live Lumber, soldiers or passengers on board a ship are so called by the sailors. [Grose, "Dictionary of the Vulgar Tongue," 1785]
Related entries & more
下面是词源的翻译(机器翻译比较难翻,参考着看)
lumber (n.)"木材锯成粗糙的木板以供使用",1660 年代,美式英语(马萨诸塞州),早期的"废弃的家具;沉重的、无用的物体"(1550 年代),来源不确定。据说它可能源自木材 (v.1) 的"笨拙的移动"概念,并且可能受到伦巴第 (qv) 的影响或与之相关,伦巴第是意大利移民阶级,以典当商(和放债人)而闻名。 )在古英格兰。 Lumbar 和 Lumbard 是英语中 Lombard 的古老替代形式。那么,意义的演变将是因为木屋("当铺;小偷藏匿偷来的财产的地方")自然地积累了家具的零碎物品。 19 世纪的猜测是,它直接来自当铺意义上的木材库或木材房,但这些在木材(n.)之前没有得到证实。木材营建于 1839 年;木材厂始建于 1830 年; lumber-yard源自1777年。水手们对活木材、船上的士兵或乘客的称呼。 [格罗斯,《粗俗语言词典》,1785 年] 相关条目及更多
---
本站没有存储任何书籍、杂志和报纸。
页面内容只做展示和推荐。如果您喜欢本期内容请购买正版。
This site does not store any books, magazines or newspapers.
The contents of the pages are for display and recommendation only.
If you like the content of this issue please purchase the original.