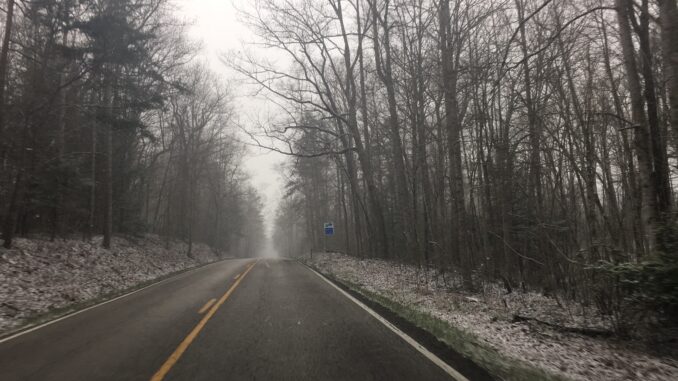 dreary
音标:
美音:/ˈdrɪri/,英音:/ˈdrɪəri/
听听基本释意:
外刊例句:
They wanted to get young Syrians excited about ancient sites, which most had only visited during dreary school trips.
他们想让年轻的叙利亚人对古代遗址感到兴奋,这些遗址大多数人只是在沉闷的学校旅行中参观过。
—Washington Post
During the pandemic, photos of dreary isolation rooms where some students are required to take exams have been widely shared each year.
在大流行期间,一些学生被要求参加考试的沉闷隔离室的照片每年都被广泛分享。
—New York Times
How dreary to be somebody / How public, like a frog / To tell your name the livelong day / To an admiring bog.
成为一个人多么沉闷/多么公开,像一只青蛙/在漫长的一天中说出你的名字/对一个令人钦佩的沼泽。
—Washington Post
基本释意:
adjective
lacking in liveliness or charm or surprise
adj. 沉闷的,令人沮丧的
同义词:
drab,blue,dark,dingy,disconsolate,dismal,drab,drear,gloomy,grim,sorry,
短释义:
When something is dreary it's depressing or lifeless in a rainy-day way. I finished my work, there was nothing on TV, and the rain just wouldn't stop: what a dreary day!
当某事沉闷时,它会在雨天的方式中令人沮丧或毫无生气。我完成了我的工作,电视上什么也没有,雨也停不下来:多么沉闷的一天!
长释义:
Dreary can refer to a feeling, a place, a time, or even a thing. It sounds a little like a combination of "drizzle" and "teary," and that's not a bad way to remember what it means. My grandmother's house was a dreary affair: run down, poorly lit, and silent but for the buzz of the fluorescent light in the cramped kitchen. Some might call the recession a depression: I call it dreary, either way. If the economy remains dreary like this much longer, I just might move to China.
沉闷可以指一种感觉,一个地方,一个时间,甚至是一件事。这听起来有点像"毛毛雨"和"泪水"的组合,这不是记住它的意思的好方法。我祖母的房子很沉闷:破旧不堪,灯光昏暗,寂静无声,只有狭窄厨房里荧光灯发出的嗡嗡声。有些人可能将经济衰退称为萧条:无论哪种方式,我都称其为沉闷。如果经济长期如此低迷,我可能会搬到中国。
文学例句:
Mostly because of Pop, my father's life has been pretty dreary.
主要是因为流行音乐,我父亲的生活相当沉闷。
—Boy21 by Matthew Quick
During the dreary days in which she had heard nothing from her husband, the name Chickamauga had held desolation and despair for Nancy.
在她没有收到丈夫任何消息的沉闷日子里,奇卡莫加这个名字让南希感到凄凉和绝望。
—Across Five Aprils by Irene Hunt
How dreary it must be for her, working here day after day.
日复一日地在这里工作,对她来说一定是多么沉闷。
—The Witch of Blackbird Pond by Elizabeth George Speare
词源:
dreary (adj.)Old English dreorig "sad, sorrowful," originally "cruel, bloody, blood-stained," from dreor "gore, blood," from (ge)dreosan (past participle droren) "fall, decline, fail," used of rain, snow, dew, fruit, and the slain, from Proto-Germanic dreuzas (source also of Old Norse dreyrigr "gory, bloody," and more remotely, Old Saxon drorag, Middle High German troric "bloody;" German traurig "sad, sorrowful"), from PIE root dhreu- "to fall, flow, drip, droop" (see drip (v.)).
The word has lost its original sense and the notion of "dripping blood." Sense of "lonesomely dismal, gloomy" first recorded 1667 in "Paradise Lost," but Old English had a related verb drysmian "become gloomy." Weakened sense of "causing a feeling of tedium, tiresomely monotonous" is by 1871. Related: Drearily.Related entries & more 
下面是词源的翻译(机器翻译比较难翻,参考着看)
dreary (adj.)古英语 dreorig "悲伤的,悲伤的",最初是"残忍的,血腥的,血迹斑斑的",源自 dreor "gore,blood",源自 (ge)dreosan(过去分词 droren)"跌倒,衰落,失败, " 用于雨、雪、露水、水果和被杀的人,来自原始日耳曼语 dreuzas(也来自古诺尔斯语 dreyrigr "血腥、血腥",更遥远的是,古撒克逊人 drorag,中古高地德语 troric "血腥";德语 traurig "悲伤的,悲伤的"),源自 PIE 词根 dhreu- "下降、流动、滴落、下垂"(参见滴灌 (v.))。这个词已经失去了它原来的意义和"滴血"的概念。 1667 年,"失落的天堂"首次记录了"寂寞凄凉,阴沉"的意思,但古英语有一个相关的动词 Drysmian "变得阴沉"。到 1871 年,"导致乏味、令人厌烦的单调"的感觉减弱。相关:Dreally.Related entries & more
---
本站没有存储任何书籍、杂志和报纸。
页面内容只做展示和推荐。如果您喜欢本期内容请购买正版。
This site does not store any books, magazines or newspapers.
The contents of the pages are for display and recommendation only.
If you like the content of this issue please purchase the original.