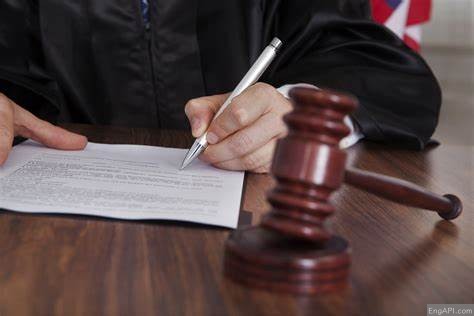 appellate
音标:
美音:/əˈpelət/,英音:/əˈpelət/
听听基本释意:
外刊例句:
But members of Christopher Lalchan's family say they were "robbed" of justice by the appellate court and by prosecutors who chose not to retry Diana Lalchan.
但克里斯托弗拉尔坎的家人表示,上诉法院和选择不重审戴安娜拉尔坎的检察官"剥夺了"正义。
—Washington Post
"Because the dog owners failed to negate every conceivable basis for the ordinance's rationality, the ordinance satisfies rational basis review and substantive due process analysis. The judgment is affirmed," the appellate court's opinion reads.
"由于狗主人未能否定该条例合理性的所有可能依据,该条例满足合理依据审查和实质性正当程序分析。判决得到维持,"上诉法院的意见写道。
—Washington Times
The study, based on confidential, in-depth interviews with 50 federal appellate judges, found that the vast majority take diversity into account in their clerkship hiring.
该研究基于对 50 名联邦上诉法官的保密、深入访谈,发现绝大多数法官在聘用文员时都考虑到了多样性。
—Washington Post
基本释意:
adjective
of or relating to or taking account of appeals (usually legal appeals)
adj. 上诉的;受理上诉的
同义词:
appellant
短释义:
The adjective appellate is good for talking about the legal process for hearing appeals. An appellate court of law mainly deals with people attempting to reverse legal decisions.
形容词上诉很适合谈论听证上诉的法律程序。上诉法院主要处理试图推翻法律决定的人。
长释义:
After a defendant has been convicted of a crime, she has the opportunity to appeal that decision, or apply to have her case re-tried. The judge who would hear this new case is called an appellate judge, and the court in which the case would be heard is an appellate court. The word appellate is a legal way to say "relating to appeals," and its root is the Latin appellare, "to address, appeal to, or summon."
被告被定罪后,她有机会对该决定提出上诉,或申请重审她的案件。审理这个新案件的法官称为上诉法官,审理此案的法院是上诉法院。 appellate 一词是"与上诉有关"的合法说法,其词根是拉丁文 appellare,意为"解决、上诉或传唤"。
文学例句:
I had to go back to an appellate court in California and argue to get that sentence replaced with a reasonable sentence.
我不得不回到加利福尼亚州的上诉法院,并争辩说要用合理的刑罚代替那个刑罚。
—Just Mercy by Bryan Stevenson
"What they said is already under oath on paper," said David Erickson, a former state appellate judge who teaches at Chicago Kent College of Law.
"他们所说的话已经在纸上宣誓了,"在芝加哥肯特法学院任教的前州上诉法官戴维·埃里克森 (David Erickson) 说。
—2 brothers threaten to stop cooperating in Smollett case by DON BABWIN
The lawyers have presented numerous legal briefs on the issue and took the case to a California appellate court which, while making no order, suggested it was time for the marathon case to be resolved.
律师们就此问题提交了大量法律简报,并将此案提交给加利福尼亚州上诉法院,该法院虽然没有下令,但表明是时候解决马拉松案了。
—Polanski lawyers say extradition request is unfair by ???
词源:
appellate (adj.)"pertaining to appeals," 1726, from Latin appellatus, past participle of appellare "appeal to" (see appeal (v.)).Related entries & more 
下面是词源的翻译(机器翻译比较难翻,参考着看)
appellate (adj.)"与上诉有关",1726 年,来自拉丁语 appellatus,appellare 的过去分词"上诉"(参见 appeal (v.))。相关条目及更多
---
本站没有存储任何书籍、杂志和报纸。
页面内容只做展示和推荐。如果您喜欢本期内容请购买正版。
This site does not store any books, magazines or newspapers.
The contents of the pages are for display and recommendation only.
If you like the content of this issue please purchase the original.