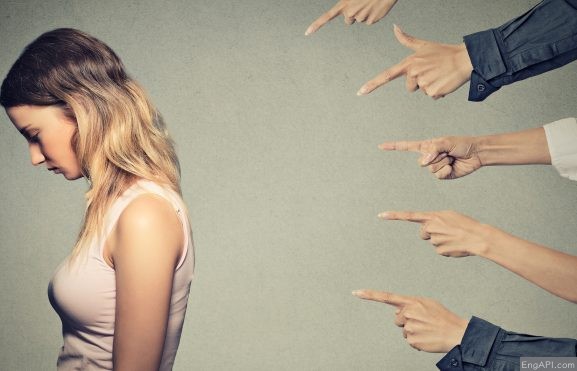 condemn
音标:
美音:/kənˈdem/,英音:/kənˈdem/
听听基本释意:
外刊例句:
Moussa Faki Mahamat, the chair of the African Union Commission and a former prime minister of Chad, called for the parties involved to respect human life, and he condemned the repression.
非洲联盟委员会主席、乍得前总理穆萨·法基·穆罕默德呼吁有关各方尊重人的生命,并谴责镇压。
—New York Times
The reputational costs of not condemning Russia's invasion of Ukraine seem counterproductive considering the Chinese economy's continued reliance on Western technology and trade.
考虑到中国经济继续依赖西方技术和贸易,不谴责俄罗斯入侵乌克兰的声誉成本似乎适得其反。
—Washington Post
Others — especially older prisoners who remember the Soviet era, when the charge of treason carried the death penalty — looked at me with sympathy, as one views a condemned man.
其他人——尤其是那些记得苏联时代的年长囚犯,当时叛国罪被判处死刑——同情地看着我,就像看待一个被判刑的人一样。
—Washington Post
基本释意:
verb
express strong disapproval of
v. 谴责,严厉指责;宣判,判决;使陷入(不愉快的境地);宣布……不安全;证明(或表明)有罪
同义词:
decry,excoriate,objurgate,reprobate,doom,sentence
短释义:
You can condemn, or openly criticize, someone who is behaving inappropriately. If you are an animal rights activist, you would probably condemn someone for wearing fur.
您可以谴责或公开批评行为不当的人。如果您是动物权利活动家,您可能会谴责某人穿皮草。
长释义:
Condemn originally comes, through Old French, from the Latin word condemnāre, "to sentence, condemn." You may see politicians condemn each other in political ads during a campaign in hopes of improving their chances of winning an election. You also might hear of a convict being "condemned to death." In this sense of the word, to condemn still carries on its Latin meaning of "to sentence."
谴责最初来自古法语,来自拉丁词"谴责","判决,谴责"。 You may see politicians condemn each other in political ads during a campaign in hopes of improving their chances of winning an election.你也可能听说过一个罪犯被"判处死刑"。在这个词的这个意义上,谴责仍然延续了它的拉丁语"判决"的意思。
文学例句:
I cried, reacting as if I were a convict and my mother a judge condemning me to death for a crime I didn't commit.
我哭了,反应好像我是一名罪犯,而我的母亲是一名法官,因为我没有犯下的罪行而判处我死刑。
—Kaffir Boy: An Autobiography by Mark Mathabane
Kisses behind a Dumpster and in the parking lot of a condemned school don't amount to anything.
在垃圾箱后面和在一所被谴责的学校的停车场里亲吻没有任何意义。
—Dumplin' by Julie Murphy
The prison allowed family members to stay until about 10:00 p.m., when they would begin to prepare the condemned for execution.
监狱允许家属待到晚上 10:00 左右,届时他们将开始为死刑犯做准备。
—Just Mercy by Bryan Stevenson
词源:
condemn (v.)early 14c., condempnen "to blame, censure;" mid-14c., "pronounce judgment against," from Old French condamner, condemner "to condemn" (11c.) and directly from Latin condemnare, condempnare "to sentence, doom, blame, disapprove," from assimilated form of com-, here perhaps an intensive prefix (see com-), + damnare "to harm, damage" (see damn (v.)). Replaced Old English fordeman.
From late 14c. as "hold to be reprehensible or intolerable," also "afford occasion for condemnation, bear witness against." From 1705 as "adjudge or pronounce as forfeited" (as a prize of war, etc.); from 1833, American English, in the sense of "to judicially take (land, etc.) for potential public use." From 1745 as "judge or pronounce (a building, etc.) to be unfit for use or service." Related: Condemned; condemning.
下面是词源的翻译(机器翻译比较难翻,参考着看)
谴责(v.)早期 14c.,condempnen "责备,谴责;" 14c. 中期,"发音判断反对,"源自古法语 condamner,谴责者"谴责"(11c.),直接源自拉丁语 demonare,condempnare "判决、毁灭、责备、不赞成",源自 com- 的同化形式,这里可能是一个强化前缀(见 com-),+ 该死的"伤害,损害"(见该死的 (v.))。取代了古英语 fordeman。从 14 世纪末开始。作为"认为应受谴责或不可容忍的",也称为"有理由谴责,作证反对"。从 1705 年起作为"判定或宣布没收"(作为战争奖品等);从 1833 年开始,美式英语的意思是"以司法方式将(土地等)用于潜在的公共用途"。从 1745 年起作为"判断或宣布(建筑物等)不适合使用或服务"。相关:谴责;谴责。
---
本站没有存储任何书籍、杂志和报纸。
页面内容只做展示和推荐。如果您喜欢本期内容请购买正版。
This site does not store any books, magazines or newspapers.
The contents of the pages are for display and recommendation only.
If you like the content of this issue please purchase the original.