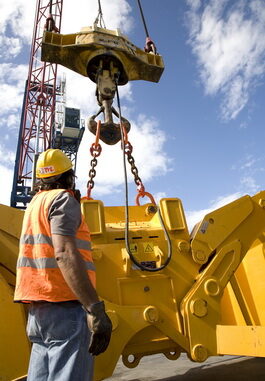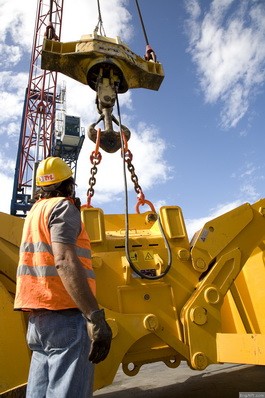 stevedore
音标:
美音:/ˈstiːvədɔːr/,英音:/ˈstiːvədɔː(r)/
听听基本释意:
外刊例句:
It has finally returned to port where it is being unloaded by the ship's crew, rather than stevedores on land.
它终于回到港口,由船员卸货,而不是陆地上的装卸工人。
—The Guardian
Although swearing in a male-dominated profession can be a short cut to acceptance, women are also more likely to be shunned or seen as untrustworthy—even by women—when they sound like stevedores.
尽管在男性主导的职业中发誓是获得认可的捷径,但当女性听起来像装卸工时,她们也更有可能被回避或视为不值得信任——即使是女性也是如此。
—Economist
In another wing, incredibly, is the Allegheny Locomotive, an old stevedore that was brought from Pennsylvania to Detroit, and the museum "expanded" to allow its entry.
令人难以置信的是,在另一翼是阿勒格尼机车,这是一台从宾夕法尼亚州运到底特律的旧装卸工,博物馆"扩建"以允许其进入。
—Washington Times
基本释意:
noun
a laborer who loads and unloads vessels in a port
n. 装卸工,搬运工
同义词:
dock worker,dock-walloper,docker,dockhand,dockworker,loader,longshoreman,lumper
短释义:
You can call a dock worker who loads cargo onto boats a stevedore.
您可以称将货物装载到船上的码头工人为装卸工。
长释义:
You don't have to be named Steve to be one (the word means docker or longshoreman), but the spelling of the English given name probably influenced the modern appearance of this word, from the Spanish estivar, "to stow cargo." The ultimate root is the Latin word stipare, "pack down or press," and the archaic English verb steeve, or stow, is a relative.
不一定要叫史蒂夫(Steve)(这个词的意思是码头工人或码头工人),但英文名字的拼写可能影响了这个词的现代外观,来自西班牙语 estivar,意思是"装载货物"。最终词根是拉丁词 stipare,"压下或压紧",而古英语动词 steeve,或 stow,是一个亲戚。
文学例句:
"My new boyfriend was raised by a pack of wild stevedores."
"我的新男友是由一群野蛮的装卸工抚养长大的。"
—Advice | Carolyn Hax: Expectant parent doesn't love in-laws' nagging by ???
The sense of revival is palpable along the Barcelona waterfront, where stevedores work the arms of giant cranes hoisting containers full of factory wares onto giant vessels bound for points across Europe and Asia.
复兴的感觉在巴塞罗那海滨随处可见,装卸工们用巨型起重机的手臂工作,将装满工厂产品的集装箱吊到开往欧洲和亚洲各地的巨型船只上。
—Spain's Long Economic Nightmare Is Finally Over by Peter S. Goodman
At Vulture's Peak, a shrine where the Buddha taught his Heart Sutra—"Form is only emptiness, emptiness only form"—a crowd of touts, stevedores, rickshaw drivers, and cold-drink venders ringed Anand.
在秃鹫峰,一座佛陀教导他的心经的圣地——"色只是空,空只是色"——一群小贩、装卸工、人力车夫和冷饮小贩围着阿南德。
—Walking the Path of the Buddha in a Neglected Corner of India by Paul Salopek
词源:
stevedore (n.)1828, earlier stowadore (1788), from Spanish estibador "one who loads cargo, wool-packer," agent noun from estibar "to stow cargo," from Latin stipare "pack down, press" (see stiff (adj.)).Related entries & more
下面是词源的翻译(机器翻译比较难翻,参考着看)
stevedore (n.)1828,更早的 stowadore (1788),来自西班牙语 estibador"装载货物的人,羊毛包装工",来自 estibar 的代理名词"装载货物",来自拉丁语 stipare"打包,压机"(参见 stiff ( adj.)). 相关条目及更多
---
本站没有存储任何书籍、杂志和报纸。
页面内容只做展示和推荐。如果您喜欢本期内容请购买正版。
This site does not store any books, magazines or newspapers.
The contents of the pages are for display and recommendation only.
If you like the content of this issue please purchase the original.