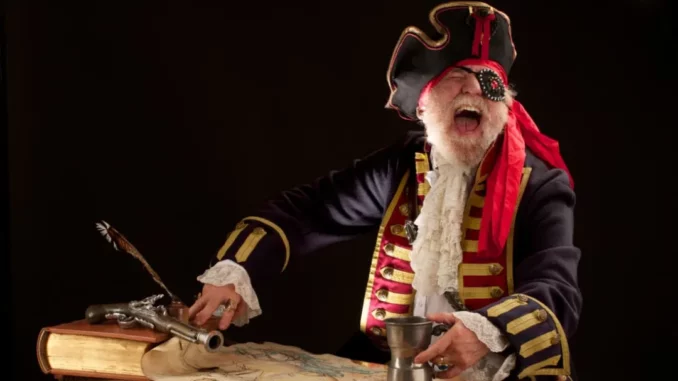 Talk Like a Pirate Day is returning to port on September 19th and you can bet your boots that a few celebrants will be using the terms pirate and buccaneer interchangeably. Most people do. Nevertheless, these two words aren't actually synonymous.
9月19日海盗节,我可以跟你打赌肯定会有人把pirate和buccaneer弄混,实际上这两个词的意思并不相同。
Four hundred years ago, if you were a seafaring thief, the label that you received said a great deal—mainly about whoever it was doing the labeling. Anyone who called you a "pirate" probably hated your guts. But those who cited you as a "buccaneer" might have had a very different attitude. Within certain contexts, the latter group may have even embraced you as a national hero.
400年前,如果你是个海贼,那你头上肯定顶着很多称号,关键在于谁赋予你的称号。那些喊你pirate的人可能想砍死你,但那些喊你buccaneer的人可能对你有不同的态度。在某些特定的情况下,后者甚至拿你当英雄对待。
Time for a swashbuckling semantics lesson. In article 101 of the United Nations Convention on the Law of the Sea (UNCLOS), piracy is defined as "any illegal acts of violence or detention … committed for private ends by the crew or the passengers of a private ship." UNCLOS also states that, to be considered piracy, a crime must occur within international waters. If the event in question takes place within a particular country's territorial waters, the aggressors will be deemed armed robbers rather than pirates.
是时候上一节语文课了,《联合国海洋法公约》第101条将海盗定义为"任何非法暴力或扣押的行为"、"明知船舶或飞机成为海盗船舶或飞机的事实,而自愿参加其活动的任何行为",《联合国海洋法公约》还规定海盗行为必须发生在国际水域内,才能被视为海盗行为。如果劫掠事件发生在一国海域之内,那么将会被视为武装抢劫而不是海盗行为。
Historical definitions tended to be a lot broader. During the 17th and 18th centuries, England regarded piracy as any criminal act committed on the high seas or below the low tide mark around shores, rivers, and estuaries. Hundreds of years earlier, in the year 100 CE, Plutarch—a noteworthy Greek scholar— talked about pirates as anybody who attacked a ship or maritime city without legal authority.
Just what did he mean by "legal authority?" Plutarch was probably alluding to warships. Nowadays, these are generally owned by national governments, but this wasn't always the case. From medieval times through the early 20th century, it was common practice for a nation at war to recruit private vessels to assault its enemy's ships, steal their goods, and plunder their ports. Mariners who engaged in such state-approved mischief were called "privateers."
然而历史上的定义要宽泛得多,17到18世纪,英国人将海盗行为定义为在公海或者海岸、河流或者入海口附近的犯罪行为。古希腊学者Plutarch将海盗行为定义成没有法定授权就袭击船只或海边城市的人。那么他嘴里所说的"法律授权"究竟是什么意思?Plutarch大概指的是战船,因为在中世纪到20世纪初,处于战争状态下的国家总是招募私人船只攻击敌国的船只,夺取货物,抢劫港口,这是很普遍的做法。从事这种国家授权的船长一般被称之为"私掠船(privateers)"(大航海时代2里就有这个翻译)。
Usually, a privateer vessel was allowed to operate under a license that was granted by the country it served. Dubbed the Letter of Marque, this document laid out a code of conduct and payment policy for the crew. (Privateers almost always got to keep a percentage of whatever they took.)
Essentially, privateers were independent contractors, acting as hostile, government-commissioned, seafaring mercenaries. Therefore, they technically weren't pirates because real pirates didn't behave in accordance with any national laws or regulations. But the dividing line here was pretty blurry. Many privateers eventually became pirates and vice versa. Also, a captured privateer would sometimes be tried as a pirate by the country he or she was victimizing.
通常情况下,一艘私掠船被允许在其服务的国家授予的许可证下运营。这份文件被称为 "赎罪书",规定了船员的行为准则和付款政策。(私掠者几乎总是可以保留他们所拿的东西的一个百分比)。
从本质上讲,私掠者是独立的承包商,作为敌对的、受政府委托的航海雇佣兵行事。因此,从技术上讲,他们不是海盗,因为真正的海盗的行为不符合任何国家法律或法规。但是,这里的分界线是非常模糊的。许多私掠者最终成为海盗,反之亦然。此外,被俘的私掠者有时会被他或她所伤害的国家当作海盗来审判。
This brings us back to buccaneers: Throughout the 16th through 18th centuries, Spain more or less controlled the Caribbean. However, in the 1600s, she started to get some not-so-friendly competition. By the middle of that century, settlers from various other European countries—including England, France, and the Netherlands—had colonized parts of the Leeward Islands and Hispaniola. Among these newcomers, transplanted Frenchmen were especially common. The Gallic colonists would frequently smoke their meat over a wooden platform that they called a boucan. Thanks to this cooking technique, the frontiersmen were given the nickname "buccaneers."
Before long, many turned to piracy. Because of Spain's huge colonial presence in the Caribbean, buccaneers more or less exclusively targeted Spanish ports and ships. This turned plenty of heads across the Atlantic. In an attempt to cripple Spain's empire, the English, French, and Dutch began issuing Letters of Marque to buccaneer vessels.
让我们回到"海盗(buccaneer)"时代,16到17世纪,西班牙控制着大部分加勒比海地区,到了17世纪,西班牙的海上霸主地位就受到了挑战,17世纪中叶其他欧洲殖民国家如英国法国和荷兰,已经在英属维尔京群岛和海地岛建立了殖民地。在这些外来殖民者中,法国人经常在他们称之为boucan的木制器具上熏肉,所以他们也被称为"buccaneers"。不久之后,他们中很多人转职成了海盗,他们盯上了西班牙帝国的船只和港口,英国、法国和荷兰也给这些海盗船予以保护。
Eventually, the word buccaneer came to possess its current—and very specific—definition, which is: "any of the piratical adventurers who raided Spanish colonies and ships along the American coast in the second half of the 17th century." (Told you it was specific.)
于是"buccaneers"有了现在的定义,而且是非常具体的定义:在17世纪下半叶,袭击西班牙殖民地和沿美洲大陆航行船只的劫掠冒险者。
The most famous buccaneer of them all was undoubtedly Sir Henry Morgan. Little is known about his early life, although most historians believe that he was born in Wales at some point in 1635. Nearly 20 years later, he set sail for Barbados as a member of an expedition that saw England seize Jamaica from the Spanish.
他们当中最著名的人物当属亨利 摩根爵士,人们对他的早期经历知之甚少,很多历史学家认为他1635年出生于威尔士,20年后他作为英军中的一员见证了英国从西班牙手里夺走了牙买加殖民地。
Morgan quickly emerged as a leading buccaneer, and as England's most ruthlessly effective privateer. In 1668, he seized the heavily guarded city of Porto Bello, Panama, holding it for ransom until the Spanish coughed up an amazing 250,000 pesos. Three years later, Morgan raided and sacked Panama City, which promptly burned to the ground. Such exploits did not endear him to the Spanish, but in England, Morgan was a widely beloved figure. Knighted by King Charles II, he was made Lieutenant Governor of Jamaica in 1674. Following his death on August 25, 1688, Morgan received a grandiose state funeral, complete with a 22-gun salute.
摩根很快成长为了海盗,同时也是英国最残酷、最高效的掠夺者,1668年他夺取了巴拿马城市贝卢港,迫使西班牙人交出了惊人的25万比索的赎金;3年后摩根洗劫了巴拿马城,将整座城市夷为平地;1674年,国王查理二世册封他为牙买加副总督;1688年8月25日摩根爵士去世后,英国为他举行了盛大的国葬,并以22响礼炮结束。
And, yes, that rum was named after him. Clearly, buccaneering had its perks.
是的朗姆酒就是以他的名字命名的,看吧,当海盗也有当海盗的好处。
---
本站没有存储任何书籍、杂志和报纸。
页面内容只做展示和推荐。如果您喜欢本期内容请购买正版。
This site does not store any books, magazines or newspapers.
The contents of the pages are for display and recommendation only.
If you like the content of this issue please purchase the original.